After a long hiatus, Gerakan Belia 4B Selangor had decided to do one of their ,much anticipated  Drift Akademi sessions in Bukit Jalil yesterday ( Sunday). Team WHAT which consist of Leong, Jenshen,Barry,Korlow,Leon, Kong, Cheaka and I were there to join in the fun and basically hang out.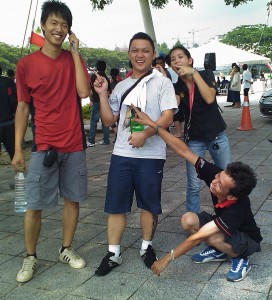 A total of 30 drifters had taken part in  the session which was incidentally  free of chrage, courtesy from the Ministry of Youth and Sports, with the help of the Belia 4B .Needless to say it was non stop drifting from 10am-7pm that day!!!
The Feint0-D team were there too, in full force ,to support the event..
The drifters were also treated to a Para-gliding demo by two dare devils that braved the strong winds that day!!
The Penolong Setiausaha of the Ministy of Youth and Sports made an appearance to commemorate the event and give out certificates and 'medals' to the participants
It great to have the Goverment to finally recognise  and lend its support to this  of sport.  Please watch this space for more up coming events!!