We have been  so busy coming towards the end of the year that we  had to miss out on a lot of events. However we did managed to squeeze in a few in between our tight schedule and we were glad that we did
STAR Motoring Gymkhana Competition@ Bukit Jalil 19th  Sept 2012
This three day event was in conjunction with the STAR newspapers Auto carnival. The organisers had included a Gymkhana competition in its list of activities which includes a car show, ICE showoffs and race queen search etc. With the first 2 days reserved for beginners and newbies, the open competition was only held on the final day of the event. It was unfortunate that Jane was not able to make it to the event as she had prior arrangements she had to attend to.
Photo by Kurazevents
The format of the competition  was based on an accumulative time of two runs on mirrored courses. To make it visually exciting, they had the cars go head to head though the outcome of whom crosses the line first does not matter as it was a timed event.
Photo by Kurazevents
I was fortunate to be paired together with Yoong as he is super fast in this discipline.And knew if I could keep pace with him I definitly post a fast time. Throughout the event I was able to match his speed but when it came to the slalom section, Yoong would leave me in his wake.  Another fast driver ,Mickey Teoh, who is a veteran of this sport, managed to edge me out of the 2nd spot at the very last minute. Though disappointed with the third place finish  I was glad I was able to take all this in as experience and would learn and work on my weaknesses.
RESULT
RWD Turbo category
3rd place ARIFF JOHANIS AHMAD Team Sync  Optima
GRA Round 3 @ Sepang International Circuit Parking A 8th Oct 2012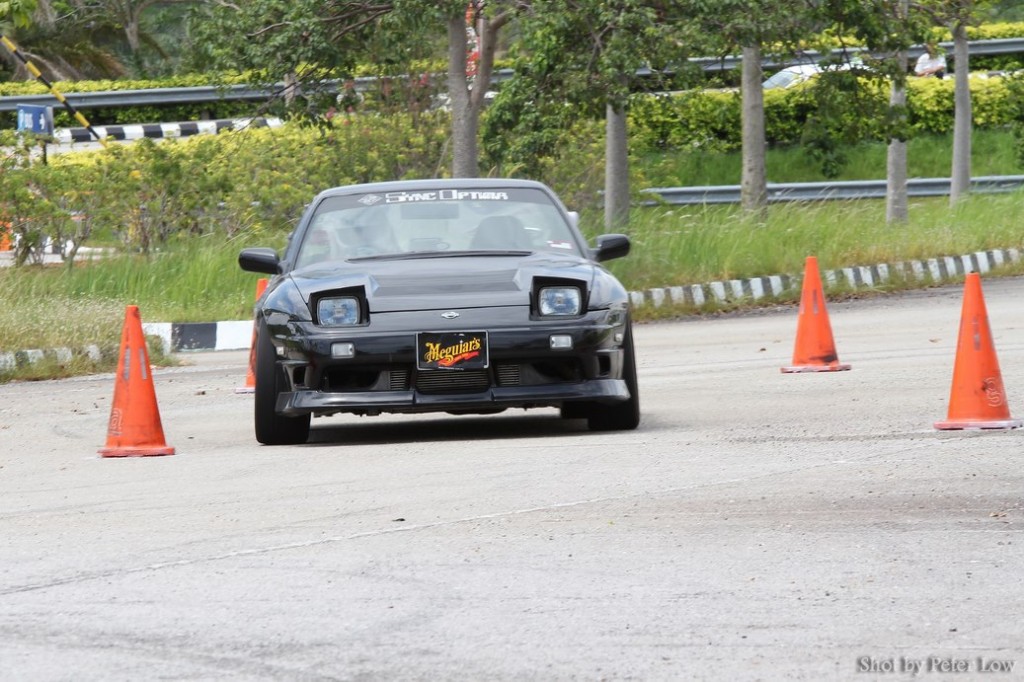 Photo by Peter Low
Round 3 of the GRA series brought us to the Sepang course which is the fastest and the longest course in the GRA series. With more skillful drivers behind higher horsepower cars this year, I expected the competition to be fiecre .
Photo by Peter Low
The course had a mixture of slow corners with  the high speed ones, which takes abit of analysing to connect them to be able to gain the quickest  time. I had initial thought I  had the gist of how how I should tackle the course  but upon discussion with the rest of the more experienced autocrosses, I found out that I didnt even managed to scrape the surface of it. That with a set of not so grippy tires did not do me any favours when it came to my general classification standings but  I did however placed 2nd in the RWD turbo category .
RESULTS
TURBO RWD Category

2nd place ARIFF JOHANIS AHMAD Team Sync Optima
ConeMasters International Gymkhana Round 3 @ SpeedCity KL 4th Nov 2012
Photo by Dennis Leong Photography
We had just completed a grueling Malaccan Petronas Xtrack event the day and had second thoughts about joining this event which was held on the next day. With the cars coming back late in the night and having to be unloaded from the trailers  along with the  tyres and equipment, this had meant that we would only get a handful of hours of sleep before having to head off to SpeedCity for the competition.However  with the thought of   me winning both of the previous rounds of the ConeMasters International Gymkhana series, I just could not resist to see if I could continue this winning streak in this event.
So with bleary eyes and aching muscles Jane and I made our way to SpeedCity for this 3rd round.
Photo by Speed Sniper
The  thing  I really like about the ConeMasters event is that everything is so relaxed and casual that you can't help but have fun in them. So much so that our tiredness was soon forgotten as soon as we got there.
Photo by Speed Sniper
This round proved to be different as the course was designed more like an autocross event rather than a gymkhana event as there weren't any donuts and slalom . A two up format was also adopted with both competitiors running on mirrored courses and then switching places  and with that the accumulative runs were added.  Hence making the result of the whom crosses the line first didn't matter as it was still a timed event.
The only gripe everyone had was the course on paper did not look anything like what we had to compete on.It was totally confusing . So much so, that almost everyone had gotten the course wrong and was not able to post a time. One such victim of  this was Jane whom unfortunately had a strings of wrong courses and then decided to stop when she experienced engine misfiring  when it started to rain mid way into our first session
I ,too fell victim to the dredded misfiring when I drove into one of the huge puddle that scattered the place and had to limit my revs to only 5000rpm before having to upshift to keep the engine running smoothly.
Photo by Speed Sniper
Hoping to run again on the second session and get a timed run proved to be futile for Jane as the heavens open and poured what appeared to be the heaviest rain storm I had seen in years.
To my suprise ,it turned out that my 5000rpm rev limit runs on the first session was good enough to win in the RWD category and also clocking the fastest time of the day!
I'm totally stoked to be able to  make it three times Champion  in a row in this series.  Cant wait for Round 4!!
RESULTS
RWD Category
1st place ARIFF JOHANIS AHMAD Team Sync Optima
DNF  Azrina Jane Abdullah Team Sync Optima