Held at the Goodyear Malaysia headquarters in Shah Alam, the Advance Tech Inspection had the vehicles of the  Malaysian drift teams thoroughly examined for the up coming Formula Drift Singapore PRO/AM series coming this early July. Conducted by trained and certified Formula Drift inspectors, Ricky Lin and Benjamin Khoo , the vehicles were made sure to meet the stringent technical and safety requirements as specified by Formula DRIFT Holdings LLC. This was in line of Goodyear's goal of  elevating the standards of drifting in Malaysia to international levels through it support and collaboration in this event !

The light showers night before made the weather was nice and cool
Tengku Djan was eager to get the his cars inspected that he came an hour early to be first in line!
Benjamin and Ricky at work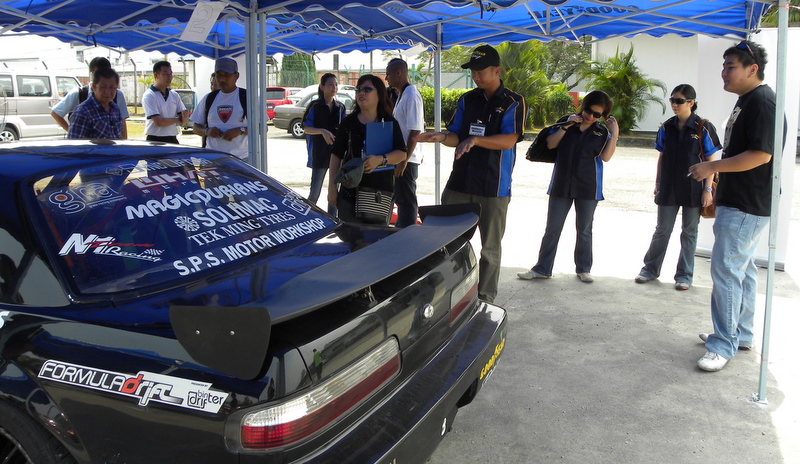 A number of the press were present that day and were given a brief overview of the event and which also highlighted the importance of the technical inspection that was  being held that day.
Marketing Director K.T.  Law giving an introduction of the Advance Tech Inspection
Marcus Lim , GM of Binter Co Pte Ltd, giving a brief overview of the Formula Drift Pro/Am series
Ricky Lin explaining the steps and procedure done during the technical inspection
While Benjamin Khoo ( Black shirt with red trimming) looks on. Seen here also is the multitasking Puay Ling (right) taking the role of a photographer too
Yoong's pristine ride had the photographers buzzing with excitment
Fento D's , Loyai showing off his new colors..