I have to admit, this is only the second time I've been to the Dato Sagor track in Kampung Gajah but during  both occasions   I  always had and always will, have the impression that the inhabitants of this serene kampung were nothing short of being the most  hospitable and friendliest bunch of people I have ever met. Locals were ever so helpful whenever we were at the track; offering to buy us meals or drinks , helping us carry our tyres during changes even after we insist them not doing so. In fact, when Cheaka had some issues with her wheel spacer , one of the workshops nearby allowed us full excess to his tools and bolts without even batting an eye lid.
It is so unfortunate that the  incident had happened, some people got hurt, some  will get into trouble and the whole community has gotten a bad rep. I seriously do not know what the future  will hold for the Sagor track as far as events are concerned but all I implore everyone , especially those who weren't there during the incident, to not  make things worse by your  speculations  and  accusasions..Enough said
Here are some photo taken of Pasir Salak Resort where we (Wanbra , Dzal , Cheaka and I) stayed for 3 days and 2 nights.A kampung style chalet , located in a middle of a village , across the river from the track ..
Wanbra " eh..kita check in guna nama I ke?"
Cheaka by the pool over looking the river..
Authentic looking kampung style chalet…the only problem is every chalet looks the same..needless to say if it weren't for the numbers we wouldn't have been able to find our way back..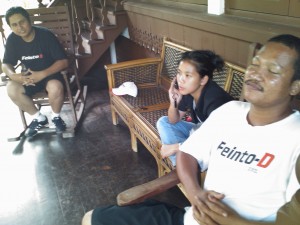 WRC Revolution Challenge results:
1st : Dzal
2nd: Cheaka
3rd: Skagee
4th: Wanbra
Photos of the actual  event will be posted later 🙂