Held at Bangkok's  Wonderworld Park, the inaugural, Goodyear Formula Drift Thailand , was a roaring success , attracting   over 7000 spectators during the two day event. This newly built international standard drift track had New Zealand's Mad Mike and Japan's Miki Ryuji  joining the ranks of an international field  made up of Thais, Malaysians ,Singaporeans , Indonesians and a Filipino. The final result had Mad Mike in first , Miki in second and Djan in third.
I personally love going to Thailand. Cheaka and I have business associates there and we are practically there every year. The people there are extremely friendly and  polite. The Thais drifters  are also no exception. They  had   impressed me  since the hay days  of the Malaysian D1 Gran Prix  series where we played host to close to a dozen Thai drifters during the final round in Shah Alam. Their drift cars ,set up and equipments were years ahead of us and as expected so were the Thai drift cars that we saw this year. The Thais are really into the sport and take competition very seriously; almost to the point of being mistaken to be unfriendly . Their  handwork and dedication to the sport  extends to  long hours of practice they put into during this  competition , even dragging into the wee hours of the morning at the Wonderworld track!!
The results of the Malaysian teams were not as impressive as the last round  in Singapore, with the exception of  Tengku Djan who got 3rd overall.  Michael Gan ( top 32) and Me (top 16) only managed to go so far with Johan and Jane obtaining damages on their cars thus failing to qualify. The  Bridgestone Malaysia team had Ivan (top 32) and Tat Wei ( top 16) suffered the same fate as us. It was apparent that  the lack of horsepower was the main citeria of our poor performance. With the exception of  Tengku Djan and Michael Gan, all of us were running a sub 330 BHP  cars. Though sufficient  for courses in Malaysia and Singapore, more power is needed for a course such as this . It was basically  a short straight that leads to a wide long corner ,where we were required to be hug the the wall  throughout the entry and also a huge portion of the first corner. The ideal technique  is to intiate the drift via handbraking all to the first  rear clipping zone . Power is needed to gain enough velocity on such a short straight which then  allows the momentum to slide the car  all the way to the rear wall!  Rest assured , we will be back next time with more fire power!! 🙂
Upon arrival at the airport on Wednesday…
After wandering aimlessly in the airport, we finally managed to locate our transport . The driver was a friendly bloke with a terrible sense of direction…he once got us lost going to the event place and took almost 3 hours when it was suppose to be a 45min journey . Johan seen here giving a two thumbs rating  for the massage chair in the van while Micheal Gan  recovers from the experience..
We arrived at the Pullman King Power  hotel and met up with Marcus and the Binter crew on the way out to the track. Seen here Micheal Gan is still recovering
Since we were free that day we decided to tag along with Ivan Lim and Phope and check out Mike Whiddet who had gearbox issues at that time
Phope telling us a typical Thai joke…
It took a while for the Kiwis to get it though …(L-R)Darren, Mike, Mr Cook  and Mr Whiddet
We were told that there was a Drift Kart joint nearby , so we decided to check it out!
Never realised before but; I wonder why the person running the place decided to rest his neck on my thumb… ???
Getting the Kart sideways was almost as fun as the real thing..
That night Phope took us out to check out some local grub…spicy
We went through  such an ordeal while shipping our car out of Malaysia that we so glad to see the car arriving in one piece in Thailand
Registration…
A few of Thailand's drift monsters …..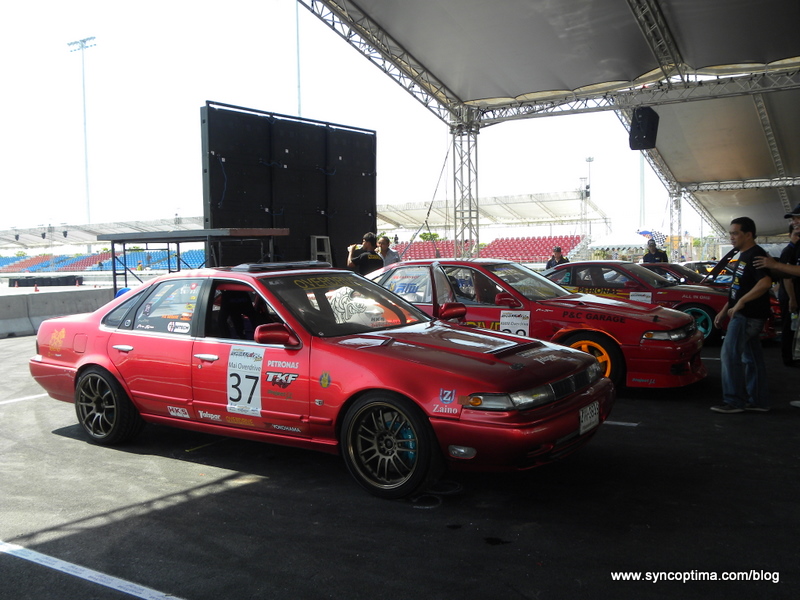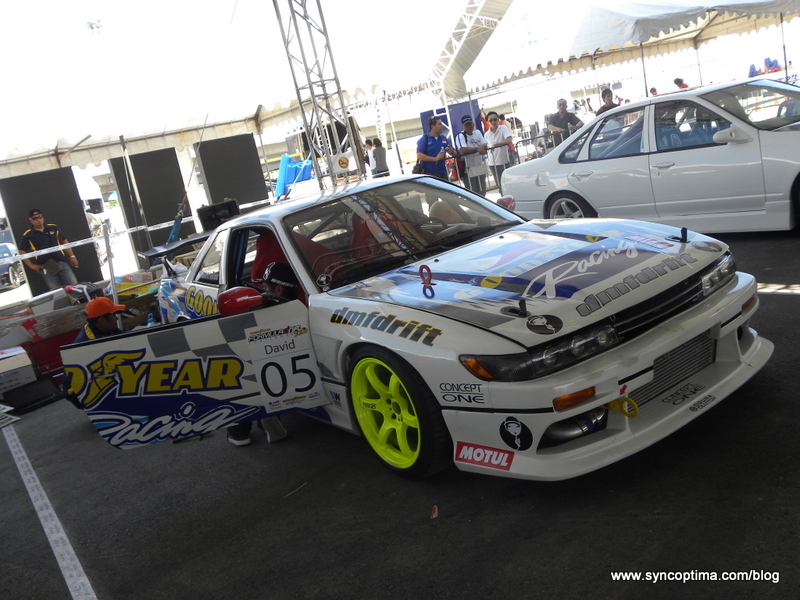 Philipine's David Feliciano's drift car decked out in cool Rota rims
A few of the 50 race queens Goodyear had hired for the event …
Rumour has it that there are two males in this photo….I think Pop doesnt know it ( then again , maybe he does:))
The results of getting a bit too close to the rear wall ……
I'm not trying to look cool here  but just trying  decide where to put my hands…
Eh…where's Cheaka's left hand is at????!!
Micheal Gan polishing his photo taking skills
Johan dreaming of having a massage chair of his own…
Maxxis's Tumz and his girlfriend who will be competiting in the Malaysian Formula Drift.
Drivers briefing
Thats all the photos I have as from then onwards we were to busy drifting …..
Competing in Thailand was a total new experience that proved to be valuable to us. From logistic wise, equipment to  team management , everything was put to a straining test where all its  flaws and weaknesses were apparent  .All these however have been noted and  necessary changes have been   made  alas  we are glad to say that we will be more prepared the next time around.