Having competed in the inaugural MMU DCM Drift Challenge in 2006 but  having to miss the following year's event, it was good to be back for the 2009's edition. With Cheaka and I now being supported by Goodyear Malaysia and  with the addition of  Jenshen to our competing Sync Optima/WHAT Team , we felt confident and knew for sure we would have a smashing weekend!!
We always have a good time when we go to Malacca; the people here are  friendly and the food the  is to die for!! Joe Han and Tina were  the perfect guides and brought us to some of the best eatery in  the historic city!!
I would strongly recommend the Lycee and Dragon fruit juice whenever you go down to Jonker street!!!
Competition Day
Cheaka,  on a combination of Goodyear  RS Sports and Revspecs,went  strong throughout the event. She did exceptionally well  during  qualifying ,which was in the wet, where she qualified 14th out of 24 participants. She got a free pass to top 16 when Ivan Lau from Team Bridgestone had some  mechanical trouble but narrowly lost out during the top 8  tandem drift battle against the much more experienced Tan Hang Eng!!
Jenshen, sporting a newly acquired  'black out ' motif on his drift machine did well by advancing to top 16 by winning his first tandem battle !!  I expect his performance will improve even further with a new engine and a few modifications in the chassis department that we have planned.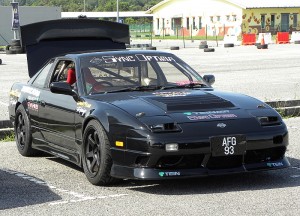 I surprised everyone, including myself by winning the event after a tough close fight with Bridgestone's  Tan Tat Wei during the finals. We both went on to two reruns until Tat Wei miscalculated my entry speed while I was leading and T boned me!! Other notable experience was when going against Indonesian drift sensation, Ray ,during the top 8 tandem battle. We had two reruns , where one I had misjudged his path when he saved 'an almost spin' and got back on line while I was diving in! The result was a smashed custom made rear bumper on Rays car while I suffered side 'B' panel damage!! 'Minta maaf 'bang"
I would have to credit my win to the exceptional performance of the Goodyear tyres , a combination of Goodyear RS sports in front  and t Revspecs at the rear. These tires held on really well as I had only used only one pair on the rear for qualifying and tandem.This amounted to 24 runs, which includes 3 practices runs, 2 qualifying runs and 19 warm up and tandem runs!!
My part sponsor , team mechanic and friend, Ah Leong (above, far right) had not failed us throughout the event!. Not only had he ensured that everything went smoothly , but he was experienced enough to come well prepared went it didn't!  Thanks buddy!
RESULTS
1st place ARIFF JOHANIS AHMAD (GOODYEAR SYNC OPTIMA)
2nd place TAN TAT WEI ( BRIDGESTONE)
3rd place Mr K ( ACE Suspension)
8th place AZRINA JANE ABDULLAH ( GOODYEAR SYNC OPTIMA)

Of course there's no other way to end the day other then fill our stomach up with good Malacca food.. Gebeh, founder and owner of Tonka exhaust brought Team Bridgestone and us to this famous 'Satay Celup" joint down town.
Please stay tune for more pictures from the event!!