After hearing so much about this place , Jane , Joe Han and I decided to check the place out. I was initially a bit worried after being informed by Jane that the cycling route is 70% climbs! ;something that a single speed BMX isn't actually cut of out for. The fact that I received stares from the people at the bike rental  shed ( Jane rented a bike there , while Joehan and I rode our own)  made me even more paranoid!!

The roads  throughout were covered by cool shady trees .Made cycling there a pleasant experience.
There were signage everywhere , so it's highly unlikely you would get lost though the compound is massive
Sunday seems to be a busy day there. There were loads of cyclist that day
Littered along the way are these little shelters where you could rest of chill out if the ride gets too strenuous
Hedgehog crossings?
Streams and small pools of water, filled with fish could be found everywhere!!
Using a combo of 33×16 was no problem  in conquering all the hills there! Gears are for pus**es!! heeehehe
We tried ridding on the brick surfaced walkways  but they were covered by slippery moss. So it was my first experience ridding off road on a BMX 🙂
This was taken at the entrance of  a' something ' that we didn't have time to check out . You seriously need a whole day to really check the place out!!

We took a route that would led us to the camping ground which snaked through a forest.
Joe Han doing some sideways action on the moss covered concrete!
The camping ground had a pool which would be great for BBQs!!! hmmm….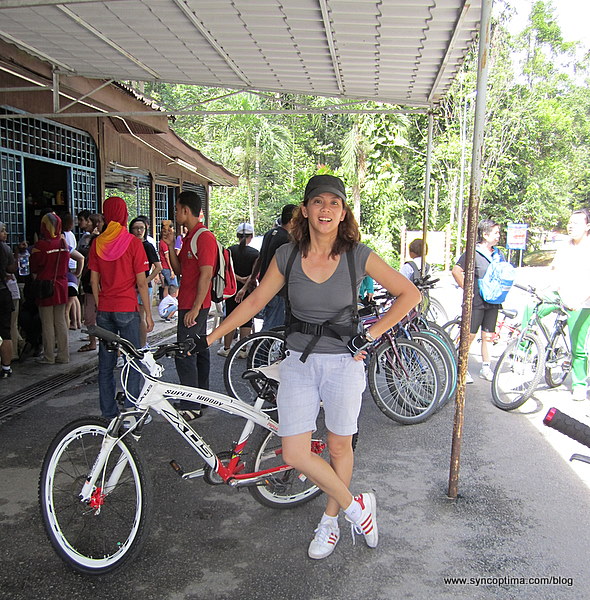 Jane before returning her 'VIP' Bike which cost rm50 for 2 hours …she was forced to take it because they ran out of the normal ones which only cost rm10 for the whole day!!!
Since we were already in Shah Alam, we decided to check out the Extreme Park there. Tried out almost everything but had the most fun on the 'table top ramp'
check out my 1 inch air!!!
Joe Han managed at least 2 inches!!