Photo by DCM
This is  it! The final decider on who would take the ACE Drift Challenge 2010 which happens to be the only  complete drift series in Malaysia for this year. With a 1st and 3rd placing from the past 3 rounds, I was on top of the leader board, with Loyai in 2nd and Ivan Lau in 3rd. Obviously this event is at the top of my priority list ….which explains why I managed to wiggle myself  out of a cousin's trip planned earlier this year ,to attend this event 😉
Jane was not so lucky  though as she had to go with Johanna  but she did managed to talk her way into leaving a day early.
So this left me and Kevin Boey, to take care of logistics; car loading, spares, tools,tires etc which we got done like clock work on friday night .
We arrived at at Jebat at 9.30 am and set about unloading  the cars off the trailers and our tent up.
Having limited tires for this round ,meant that i would not be able to practice as much as i wanted. I had budgeted 2 pairs for the first day but the  1st pair only lasted for only 2 laps .due to punctures caused by  nails and screws left on the track!!!.It was only till late afternoon before  I went out going out with my second pair. On my third successive lap, there was a huge explosion followed by a huge billow of smoke coming out of my exhaust.A blown engine???
Photo by Tong Koh Yiaw
Driving to my pit, i felt my whole championship slipping by me. I drove in and lifted the bonnet. It was about then Mike Kong and Cheryl arrived…Mike made untimely joke about being employed by Malacca's Bandaraya to kill their mosquito population in the area. A cold stare was all that was needed to make Mike to say.."err I better leave you alone ".  Ok back to the diagnostics ,The engine idled ok…no smoke coming out of the breather…just a huge cloud of engine oil smoke whenever I rev the throttle. With the help of Ah Soon, we managed to confirm that the engine is fine , just the turbo was blown!! SO a quick call to Kian from Chi KIan workshop had Kian driving down with the replacement turbo.
That official puts the end to my practice day!. It was tough sitting around watching my competitors practice , with some even advancing to tsuiso practice when you have not even  gotten down a decent run yet.However, on the bright side , I was grateful that this happen during practice  rather on competition day , like my other previous misadventures!
Photo by Tong Koh Yiaw
Jane arrived late into the day and got around her practice run and managed to drift the course fairly easily.
Kian arrived later that night with his buddy Khong and after dinner he got on to replacing the damaged turbo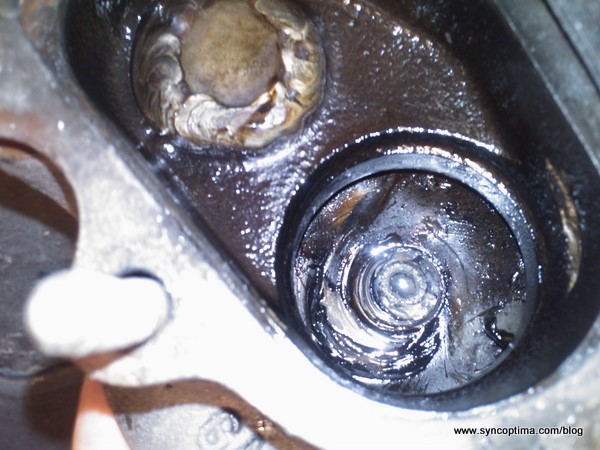 The exhaust fins were totally blown off the turbo….
So i left them to it while I went off to sleep. Apparently, Kevin and Mike had to go over there later that night cause Kian wanted some company..teeheehee..thanks guys really appreciate it
Day 2
The next day proved to be more productive with Jane and I getting some solid runs during practice. Kian had instructed me to nurse the car to avoid any problems thus limiting my runs to only 3 consecutive runs before pitting in . Jane was doing well with her runs and looked all set to qualify for this event/
Photo by Tong Koh Yiaw
Photo by Tong Koh Yiaw
The cool thing about being forced to 'take it easy' was, I had loads of time to spend with Johanna. Lim from ACE  was kind enough to  loan me his bike which I took Johanna out with..
Photo by Tong Koh Yiaw
Qualifying
Thankfully, qualifying went through without anyone having to do it under the rain. I managed to qualify with the highest points, making me 1st in ranking while Jane did an excellent job of qualifying in 17th!!
Photo by Tong Koh Yiaw
Top 32
Having qualified in the top 8, I immediately received a free pass to top 16. Jane having qualified  17th  had to go through Top 32 where she met Mohd Faizal (16th qualifier).The best part of it all is ,whoever wins has to go against me!! Jane and I  had gone against each other before but just to make sure,I told her how important it is for me to win if it did come to that point  .heheheh ..Anways back to the report ;The track was wet from the sudden down pour and both drivers did fairly well negotiating through the wet slippery course.
Their runs were almost equal and the judges had called out for a one more time!
However during the next round , Jane hit the wall and couldn't do anything about Faizal's clean run during her turn to lead!
TOP 16
So it was me against  Mohd. Faizal.. As I had never drifted in the wet on this course ,I was fairly pensive going into this round. The Goodyear Eagle F1 GDS3 performed flawlessly in the wet as I managed a clean run while clipping all the zones and points and gaining a sizable lead while doing so . During my turn to follow , I managed to shadow his move all the way to the finish line. As I was about to reach the end, a strong smell of petrol filled  the cabin. I immediately pitted in  and popped the hood open to see my fuel line had burst ,spraying  a fountain of fuel all over the the engine bay! This proved to be damaging as i later found out,as  the engine had lost a sizable amount of compression on its last cylinder due to running lean caused by the leak 🙁
TOP 8
Kecik from Kelang BBS Speedway was an opponent that I could not take lightly as he had defeated Loyai  early during the last round in A Famosa, in his nimble Ke70! . As planned , I did a clean qualifying run during my turn to lead, and kept a respectable distance close distance while following.
Photo by Tong Koh Yiaw
Top 4
Next round had me go against Johan Norman from Drift Force. Johan's C33 has a new 1jz transplant and he was super fast during practice! Out of all the runs , this was the one I enjoyed the most. He was super fast but also super clean. This meant i was able to go all out without the fear of being brake-checked during our runs!! I managed to pull a bit of a gap while leading and was super close to him while trailing.
Photo by Tong Koh Yiaw
Finals
As everyone knows ,Ivan Lau is a good friend of mine and we love teasing and bitching to/about each other. We had often joke in the past on why we hardly go against each other and but this year  happens to be a record number of two times. We all know how it went down during the Goodyear GIDS round 2  which  I was kicking myself for allowing for it to slip  away. Knowing that Ivan has a very tactical approach to tandem drifting, I had to be  extremely careful when tsuisoing with him. I knew I had the pace, so it didn't suprise me when i kept a sizable gap on him when i lead. During his turn to lead , I got close to him but yet was very cautious  at the same time as we'll never know what Ivan will come up with!. I was ecstatic!! I shadowed his lines and was alot closer then his. The crowd were cheering and I thought I had won, However it wasn't to be the case. A one more time was called.
Photo by Tong Koh Yiaw
Ivan took a 5min break to get his tyres change and was soon at the starting grid. Out of all my experience in drifting, this was the first time i had experience a jump start by the trailing car!!! Honestly i could laugh about it now but i was going WTF? when it happen to me. Ivan lurched the car and had a one car lead on me!! I had the choice aborting the run but the  adernarlin was  pumping and I chose to go for it. During my moment of hesitant, my car came off boost and i had to initiate at low revs in third!!. With this added advantage ,Ivan was able to stick closer to me than before . I knew I had to make sure I did a perfect line as the judges somehow much preferred it rather than close proximity drifting. I got close to rear clipping point on to the front and move to the next rear. The proper line beyond this point is to continue taking the outer line and switching to the other outer-line before clipping the front  cone. And I did exactly that , however while  I was doing it ……..
Ivan dove straight in into the inner line!!!.Blocking my path to the outer line!! I had a choice of either stopping the car to avoid hitting him or continue with my intended path and hopefully he would veer off to  avoid me. Having experienced what had happen to me during FX open rd 2  with Ah Fai during our first battle ( before the strings of one-mores) which I felt I was robbed of the win, I chose to go for it! . The rest as they say was history; Ivan refused to budge and  i ended up hiting him ,lifting my tail in the air and riding on his bonnet!!
My car experienced  suspension damage, the axle was bent, my rims were bent and I couldn't even do a donut without the front wheels shaking violently. I had a choice of either aborting or continue to my trailing run. If I choose the latter and spun or hit the wall during the run, that  would have meant a draw which would result on a 2nd One-more-time! I knew my car wouldn't be up to it .However being at this stage I decided to just go for it!!. At the starting line , Lim from ACE noticed that my right front wheels were pushed so far forward that it was now touching the front bumper. He instructed my crew to remove it prior to the run.Thanks Lim. So of we went. It was almost comical how the car handled on the straights. I was snaking all the way , letting Ivan gain a huge gap. We both initiated and I had to really hold on the steering wheel as it  shook violently.Some how I managed to clip the rear zone fairly close and also  the front clipping point too!! I kept saying to myself " Don't spin…don't spin" and before I knew it I nailed both of the other points and zones and arrived at the finish!!!
4th place went to Johan Norman from GT Radial Drift Force
3rd goes to Wai Jet from Kendell Hock Drift
Ivan Lau Bridgestone take 2nd
and Me in 1st place!!!
Which means I take the Championship for 2010 !!!! yipeeee!!!
RESULTS :
1st Place Ariff Johanis Ahmad Goodyear Sync Optima
2nd Ivan Lau Bridgestone
3rd Wai Jiet Kendall Hock Drift
.
17th Azrina Jane Abdullah Goodyear Sync Optima
Overall championship for Kendell ACE Drift Challenge 2010
1st Ariff Johanis Ahmad Goodyear Sync Optima
2nd Ivan Lau Bridgestone
3rd Loyai Goodyear Fentio D
All this wouldn't be possible without the help of our crew so Jane and I would like to thank the following that made 2010 our most sucessful year yet!
Kian and Ah Chee from Chi Kian Workshop for tolerating my every whim and fancy. Thanks for the 'good car' 🙂
Kevin Boey whom first started as our photographer but soon realised that his talents didn't lay there 🙂 Thanks for managing the creature comfort side of things and for your entertaining insights ..we would be lost without you.
Mike Kong, my water boy for tolerating all my abuse..I will definitely be returning the favour soon
Cheryl Chew for taking care of Johanna when Jane and I are out there. Hopefully Johanna could sing as well as you do