FXOPEN Drift Challenge RD 1 @ ELITE Track  29th-30th May 2010
Scheduled to be a 4 round series, the FXOpen Drift Challenge had  its first round in the ELITE Track in Subang Jaya.
With the Goodyear series scheduled two weeks later,I didn't want to  risk anything happening to the s13 .So I had opted to use the AE86 for this round. The car clearly had issues ever since I had upgraded the charger but I had no choice but to try to work around it.

To put it in simpler terms, the whole event was a struggle for me . The car was undoubtedly underpowered due to the belt slipping and fraying and that had me having to be at full steam hundred percent of the time to gain enough momentum to just finish the course !To add to that the igniters and electronics started to act up as the day progressed too !!
Jane fared better as she progressively improved on each run. She had perfected her lines and was more aggressive as her confidence grew towards the end of practice day!!
Qualifying was no surprise as I was penalized for lack of entry angle and only managed a 10th placing. Jane qualified  29th place,thus into the best 32.I have to add that her qualifying runs were a pale comparison of what she did during practice!
photo from Drift.com.my
I only managed to go past best 32 against Ah Ngah Tanaka ( Freinto D) but came  into a halt at  the top 16  against Meryvnn Mohd, Though disappointed ,given the circumstances, I was satisfied with my performance.
photo from Drift.com.my



Jane did a good job giving Derick Lim a run for his money with a One More Time being called. Nevertheless she finally gave in to much relief to some. 🙂
RESULTS
11th Place ARIFF JOHANIS AHMAD (GOODYEAR SYNC OPTIMA)

29th Place AZRINA JANE ABDULLAH (GOODYEAR SYNC OPTIMA)

FXOpen Drift Challenge Round 2, MIMC Malacca 9th-10th July 2010
Round 2 was proved to be an interesting change from the norm with the additional of a  third judge from Belarus, called Hiko. A more challenging start and entry was implemented by him which involves a u turn that leads to a straight right to the initiation point. A feint entry was also implemented for good measure ;)!! This was a welcome change and favored by many as we were already bored with the normal course that we were used to on this track.
photo by Drift.com.my
Unfortunately ,this change had highlighted my cars  now apparent weakness ; Grip. No doubt my practice runs were smoked filled but I was basically going no where fast!!I was struggling to keep pace even with lesser powered cars!  Even at the straights I was dropped like a bad habit by virtually everyone I followed (hahaha..yes I can laugh about it now) Anyways, we tried our best with what limited resources we had and hope for the best.

photo by DennisFXopen



Jane was initially struggled with the course but after figuring out a different entry line and technique ,she was killing it on every run!
Photo from facebook.credit to the photographer

Qualifying had me spinning during my first run as it started to rain just as I went out. During my second run, with the track being drier, I managed to grab 3rd qualifying  spot.Jane did two strong runs that earned her a 24th placing!! Only 25 drifters qualified for this round as many had spun on both runs on this slippery track!!
Picture from facebook.Credi to the photographer



Best 25 was Jane against Burn Lancer. Jane managed to edge Burn off by performing two solid runs and with that she advances to Best 16!!!
Best 16 had Jane go against Mervynn Mohd.Clearly underpowered, Jane, struggled to keep pace but still managed to maintain drift through out. Mervynn had straighten during his lead which caused a 'One more time" to be called. Unfortunately Jane had straighten during her both runs which had Mervynn advancing! Next time Jane!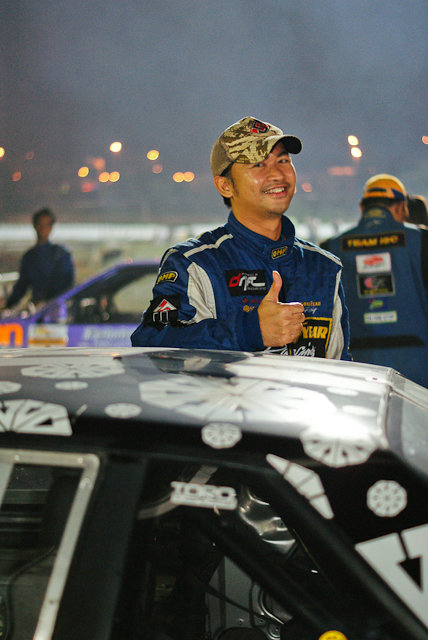 Photo from facebook.Credit to the photographer



Qualifying 3rd I had a 'walk by' which automatically got me into the best 16.
Best 16 had me go against Lim Kim Wan in his rotary power house!! With grip being my major issue I knew that there was no way I could distance myself from Wan. The only thing I could do is to grin and bear with it and do my best qualifying run I could muster ie Max angle and super close clipping points! With that in mind I initiated in the most extreme angle possible but  only to have Wan getting into the inner line! With a transition coming up, Wan had no where to go but into the barrier! The 2nd run had Wan spinning at the rear clipping point which I suspect due to the alignment change caused by the crash.
Best 8 was an interesting battle. I was to go against a certain Exotic Tuner drifter called Ah Sai (thats a deliberate typo..any hokkien speakers here.hahaha) .Anyway to put it briefly, I thought I should have won  the 1st battle as while I was leading, he had straighten considerably at the last corner to the finish .  Unfortunately the judges can't see that as the judges stand was too far away from the last corner ( no fault of the 'usual' judges) Arguments had happen between the judges where one party placed priority on 'Distance 'and the other on  the much obvious criteria  'Angle and Line' (after all you cant call it drifting if you have no angle and line!!). After 3 'One more times'   and an alcohol induced protest,my opponent was given the win
Hopefully things  like judges visibility and judging criteria will get sorted out by the next round as this will cause major confusion and might effect how the competition is perceived in the future!
I consider this competition was a good learning experience for us and I will definitely be working on the car's setup for it to be more competitive and Jane had definitely improved in her tsuiso skills which will see her advancing further in the future~~~
RESULTS
5th Place ARIFF JOHANIS AHMAD (GOODYEAR SYNC OPTIMA)

29th Place AZRINA JANE ABDULLAH (GOODYEAR SYNC OPTIMA)