Organised by Mitsubishi's distributor Cycle and Carriage, the Mitsubishi Extreme Drive gave its 200 participants a hands on experience on performing stunts such as ramp to ramp jumps, 360 spins ,j-turns and slip and slide on their showcased  Ralliart Lancer Ex , Evo X and Colt R!
For three solid days , instructors Ivan Lim, Kevin Flynn, Danny, CK , Cheaka and I, brought togather by Pit Crew,  had a whale of a time pushing these cars to the limit while teaching the participants how the stunts are performed(. Ivan and I took the J-turn, Cheaka the 360 spin , CK the slip and slide while Danny and Kevin did the ramp jump).  I got a bad bout of motion sickness on the first  day but got over it the following days. Ivan and I calculated that we sat through over 800 J turns combined ( 1 demo + 3 tries x over 200 participants). Cheaka went through almost the same numbers too but one thing that we all looked forward to was the Hot Laps that happens at the end of each session. We were each given a car to taxi the participants through a given course. I had a hand on the Evo X (manual and TC-SSC) and the Ralliart Lancer Ex( TC-SSC) and  was pleasantly surprised that I preferred the TC-SSC over the manual. The shifts were seamless upwards and downwards, so much so  that ,when I had the Ralliart Lancer Ex during the Hot Laps , I  left it on full auto  and  was so much faster than Ivan who was in a manual EVO X!!
Here are some of the photos taken throughout the three days we were there…
The extremely fun  and friendly Shell girls ..thanks for taking care of my camera girls
Eileen and Marcus
Ivan's Vicks snorting habit didn't gel to well with the girls
TV celebrity Jit and his producer was there too…Jit is extremely hilarious behind the camera and has a vast vocabulary of swear words in  many languages
The sweet registration girls
Fred swears he isn't making a face………..
Jason , Hassan and Eileen…guys if you have to know , Hassan's mother cooks a mean Bryani dish !!!
Picture taken from www.sgcarmart.com
Picture taken from sgcarmart.com: Cheaka's tai chi moves failed to impressed the participants
Picture taken from www. sgcarmart.com ;Car sickness didn't get Kevin Flynn but a sore back did ..heeheheeheeheeheh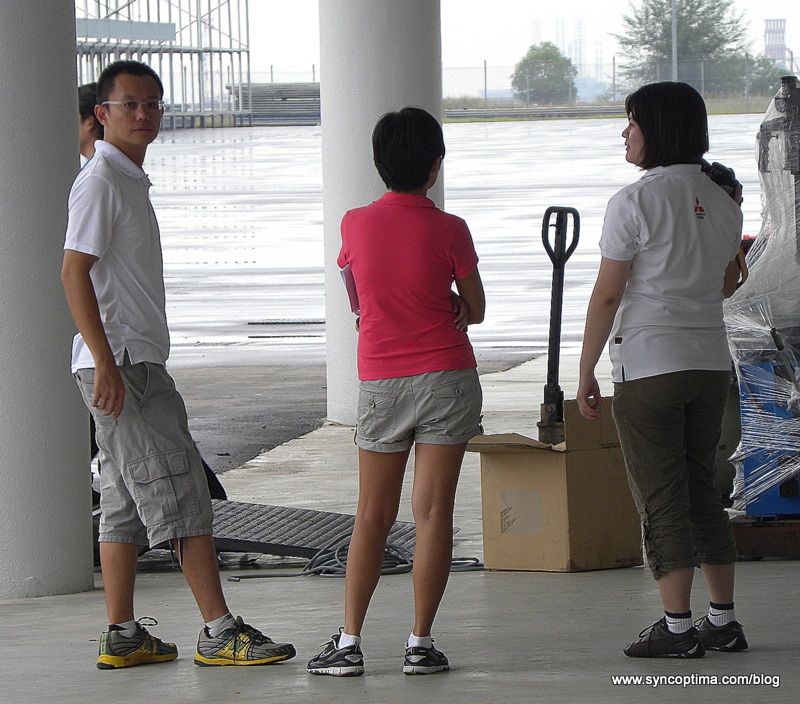 Jason, Elaine and Michelle
The video crew
Pit Crew's Wii character  lookalike
Nothing like a nice meal with friends, Heng( Drift Ninja)and family along with Nash (Drifttonowhere)
Here are some of the videos made of the event. The embedded feature has been disabled , so just click on it twice and a new window will pop up…