A month after Thailand, it was now Malaysia's turn to host the Formula Drift series.  Held at Malaysian Agro Exposition Park Serdang,this two day event had a record number of  54 drifters competing with  Thailand being the  biggest foreign contingent of 12 drifters, followed by three from Hong Kong , two from Indonesia and with New Zealand ,Singapore, Philippines and Japan with one each. As Goodyear is  the title sponsor, it is not surprising that this international field were  mainly made up of Goodyear drifters, each representing their respective region around  SEA  .One could only  imagine the amount of work it took logistically to cater to  these drivers, crews and their machinery .All these  is  credited to the dynamic management of  Goodyear Malaysia most notebly  Brenda, Puay Ling and  Sham whom all worked around the clock to ensure everything was picture perfect ,which in turn  played the major role in making  the  Goodyear Formula Drift Malaysia the best Formula Drift Asia event to date!
All drivers and teams were required to report in at the eve of the event as this is when  the final tech inspections are held and  a drivers briefing was also shedueled   A media conference and a photo session scheduled  for all the Goodyear drivers earlier that day too…
We were asked to have our face powered for the photoshoot but Thailand's Nakaorn wanted the whole works to be done on himself….the cherry flavoured lipstick being applied was his own btw.
After that he wanted his eyebrows trimmed..holding up the line , some of us were not amused!
 Michael Gan revealed that makeup experience was akin to being on the dentist chair . Watch how his toes curl as he cringe .
For the record; I didnt have any makeup  done partly due to not having enough time which I  got Nakorn to thank for:P
Everyone's amazed at what a little eye makeup could make the colors of Johan's eyes come out
Mad Mike shows us  how they  handle sheep over there….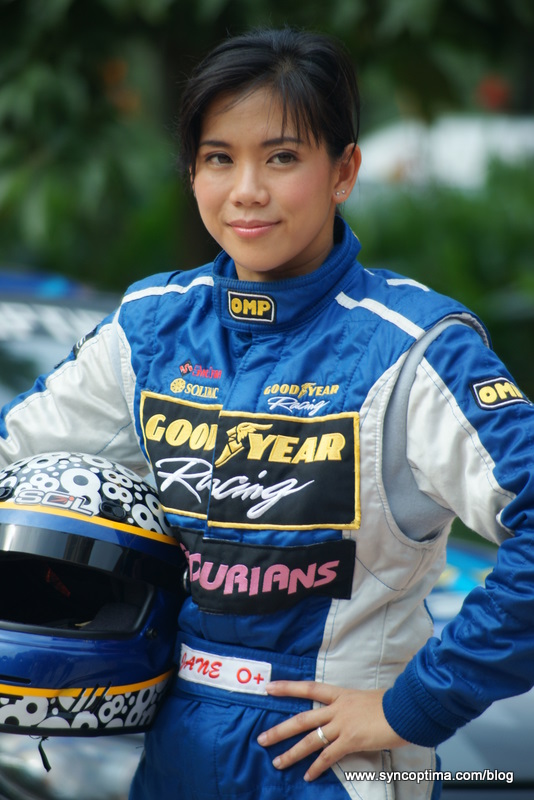 ….as Jane finds our sniggering a bit distracting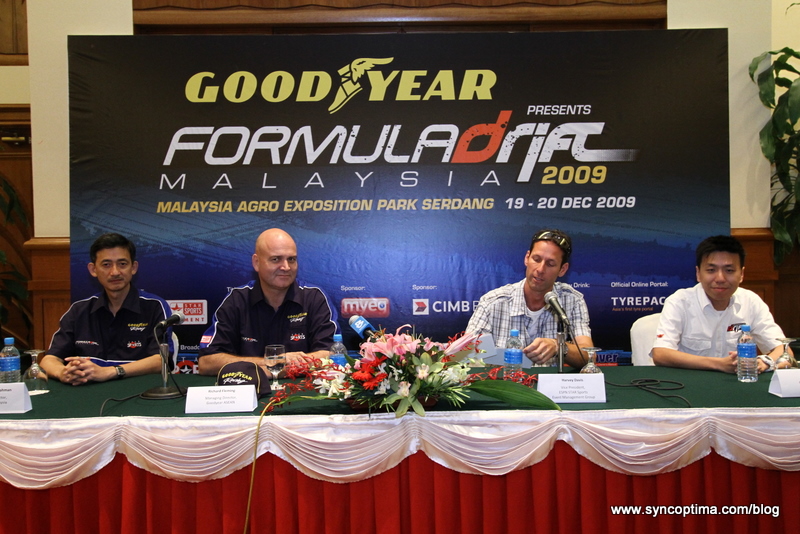 L-R En Nasution Abdul Rahman (MD of  Goodyear Malaysia) Richard Fleming( MD of Goodyear ASEAN & Thailand) , Harvey Davis (VP EPSN Star Sports Management) and Marcus Lim (MD Formula Drift Asia)
Me, Cheaka,Yoong, Johan , Michael, Mike and Miki
Miki's translator ( green t shirt) is a 'Penang kia' dude called Ken
Later that day ,the first driver's briefing was held . This is where we got to meet the judges and find out what they are expecting from us for qualifying the next day.
Daijaro says " Hi, I'm Daijaro.I'm the speed judge.So that means I will be judging your speed"
 Myth #1; Laughing at the judge's jokes will earn you extra points during qualifying
 Ryan Sage, the co founder of Formula Drift was roped in as the Angle judge for this round
Andy Yen, was the Line judge
Part of the requirements of the Tech inspection is to have the competing cars stickered up with  door sticker numbers  and windscreen banners
 Ivan lim shows off his new impact bar…pretty little petite thing , don't you think?
Tina helping out with Jane's banner..
It was actually a  mad rush for us to get our cars prepared for this event as our cars were held up  during its shipment from Thailand. Cheaka and I had suffered some body damage and those had to be tendeded to and I had a few up grades that I wanted done to the car. So, it was a hectic rush we had to go through getting the cars from the body and paint shop and off to  the workshop . They  had only got done installing and tuning the car on Wednesday and I only had the chance to test the car on the following day. It was only then we had realised that the car had a few gremlins that needed to be iron out, most notably  a sticky throttle which isn't such a good thing to have especially when you will be drifting surrounded by concrete barrier.
I only got a couple of rounds of testing before deciding to get the problem fixed as it was too dangerous to continue
 Ivan Lim managed a number of solid runs with his s13
My tempt crew for the event, Lok and Cheng trying to fix the culprit…
 A lot of cutting a grinding was involved. After thinking it was fixed , it was back to the drift practice area for testing then back to the pit area when the problem arises again. This carried on for numerous of times…
 and the  problem had gotten worse as the throttle would get stuck at the wide open position..Tonnka's Larry , far right ( who is one of my sponsor) was there to lend a helping hand.
We stayed up till 3am testing and trying to fix the problem that night. Until finally we decided to call it quits and see if  we could find a replacement the next day…